THURSDAY, JULY 21


OPEN MOTOCROSS PRACTICE

National & Vet tracks

8:00 a.m. to dusk

$30 per bike

Important! 50cc bikes are not allowed on the National Track
PEE-WEE PRACTICE

Pee-Wee track

8:00 a.m. to dusk

$20 per bike
STACYC PRACTICE

Stacy track

$5 per Stacyc

Practice is from 2:00 p.m. to 6:00 p.m.
STADIUMCROSS MINCROSS PRACTICE

Stadiumcross track

8:00 a.m. to dusk

$20 per bike
SATURDAY, JULY 23


OPEN MOTOCROSS PRACTICE

National, Vet and Pee-Wee Tracks

8:00 a.m. to 2:00 p.m

$30 per bike and $20 per 50cc

Gate fee $10 per person

Camping $10 per night per vehicle

Important! 50cc bikes are not allowed on the National Track
SUNDAY, JULY 17
TERRA FIRMA MOTOCROSS

National and Vet Tracks

Practice starts at 8:00 a.m.

Racing starts at 9:30 a.m.

Gate Fees $10 per person
FOR MORE INFO ABOUT GLEN HELEN RACEWAY
www.glenhelen.com or (909) 880-3090
• Get your Belly App (Rewards Card) to receive "FREE" Practices at the ticket booth
SATURDAY AT THE GLEN MOTOCROSS ON JULY 30
For more info go to www.glenhelen.com
PASHA 125 OPEN TWO-STROKE RACE AT "SATURDAY AT  THE GLEN" ON AUGUST 13


For more info go to www.glenhelen.com
• 2022 DUBYA WORLD VET CHAMPIONSHIP RIDER NEWS UPDATE

The 2022 Dubya World Vet MX Championships will take place on November 4-6 at Glen Helen Raceway. Over a thousand riders will travel from all 50 states and 25 different countries to compete for a prestigious World Vet Championship title. This is one of the largest Vet races in the world. This year, Glen Helen is looking forward to having even more countries participate. There will be a three-moto format this year! Racing will start on Saturday for all Amateur classes and continue until Sunday. The results of all three motos will determine the 2022 Dubya World Vet MX Champion in every class! The exceptions are the Over-40 Pros, Over-50 Pros and Pasha Over-30 125 Pros—who race on Saturday only. Additionally, the Over-30 Pros and Pasha Over-50 125 Pros will race on Sunday only. The World Cup race for national teams from individual countries will race one moto on Saturday and one moto on Sunday.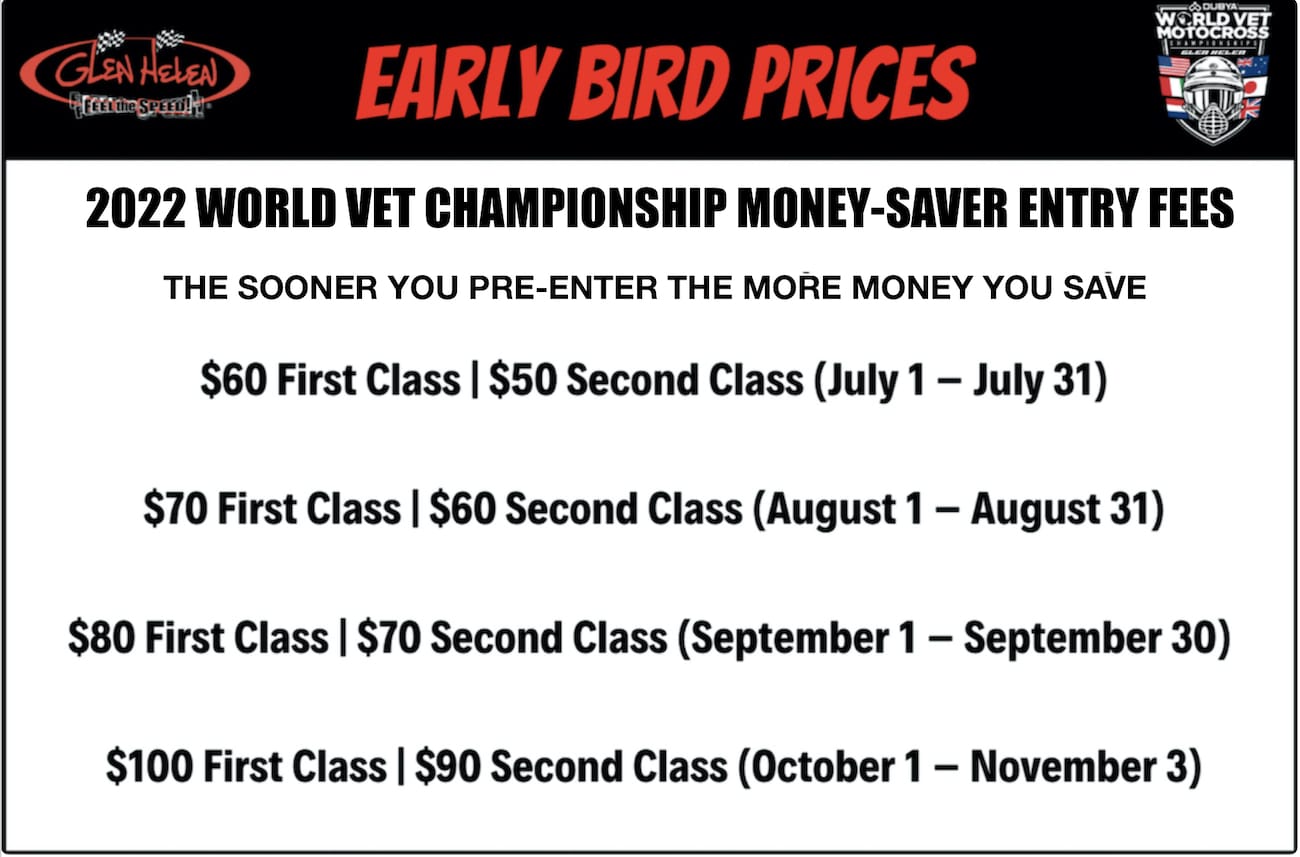 Riders can pre-enter the World Vet now! Pre-entering saves money. To pre-enter and see the class structures Click Here.
• SHIP YOUR BIKE TO THE 2022 WORLD VET MOTOCROSS CHAMPION AND HAVE IT SAFELY STORED UNTIL YOU ARRIVE




The 38th Annual Dubya World Vet MX Championship is quickly approaching on November 4-6, 2022. With over a thousand riders traveling from many different cities, states, and countries to compete for a prestigious World Vet Championship title, many riders require a place to ship and store their bike. Although you will have to arrange sipping from your country or state, you can ship your bike to Malcolm Smith Motorsports and pick it up there once you arrive in SoCal! Malcolm Smith can receive your bike from the shipper of your choice and store it for a $150 storage charge—and it will be safe until you come to pick it up before your race. For the $150 you get seven days of storage. After the seven days, you will be billed at $20 per day. Included in this service is holding the bike after the race for return shipping for a maximum of 7 days (billed at $20 per day). This service does not include any transportation of your motorcycle to the track, uncrating or mechanical work. For more info or to order this service Click Here